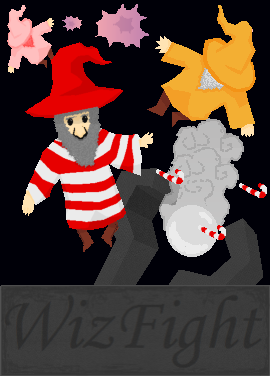 WizFight
A downloadable game for Windows and macOS
A game about dueling wizards and not really caring that all you can do is freeze the level while that other guy can draw lightning bolts from the sky.
WizFight is a high speed deathmatch game featuring over 25 wizards, each with a unique and devastating power. The game is played in small, side-scrolling arenas with 2-4 players in a variety of modes including classic deathmatch, king of the hill, and horde modes that hearkens back to the days when people gathered around one TV to play games together.
After almost a year in development and many 8-10 hour days of work on the game, I put further development on hold while attempting to port the game to Wii U. Life happened and it didn't work out. I ended up taking the game down as I left game development to handle other problems I was having at the time.
Now, a year later, I am putting the game back up for sale. I am re-entering game development and, put frankly, this version is as done as it might ever be. I have plans for the game but they would require rebuilding large parts of the game. So I've opted to just eventually rebuild the entire game.
Meanwhile, I am giving you a chance to play the original for free. If you like it, throw two dollars at the page and you can get the previously unreleased single-player mode. It's highly moddable, like everything else in the game!
Press? Streamer? Something else games media related? Click here.
Bugs? Issues? Concerns? Praise? Hate mail? Email me.
Features (Free):
High speed multiplayer deathmatch gameplay.
Over 30 unique wizards, each with their own unique power.
Four different gameplay modes, including classic deathmatch and king of the hill.
Eight arenas.
Support for Xbox 360 gamepads.
Support for custom levels, each with their own tilesets and music.
Features (Paid):
A single-player/co-op mode.
Moddable monsters for the aforementioned single-player/co-op mode.
Six more wizards, including the mimic wizard, who randomly mimics other wizards' powers, and the thief wizard, who steals the power of whoever he killed last!
Download
Click download now to get access to the following files:
wizfight21-mac.zip
121 MB
wizfight21-win.zip
121 MB
Single-player Patch
3 MB
if you pay $2.00 USD or more